Adding a Pad Printed Logo to your Palmer Fixture dispenser is easy, affordable, and a great eye-catcher! It is a wonderful way to promote your company or your customer. Your logo will surely stand out when printed in our metallic silver ink. Logos are printed in the bottom center of the dispenser cover. Your logo can be up to 2.5″ wide by 1.5″ tall.
We offer several printable dispensers. Not only are they universal for most towel, tissue and soap – they also have double latch locks with an industry standard metal key. Our made in the U.S.A. family of dispensers provide a consistent, first-class quality offering to you and your customers!
Add your logo today for a one of a kind look!
Look for the

icon on the product pages to indicate which dispensers are available for customization.
How to get your logo on Palmer Dispensers
Contact Us or call 800.558.8678 for more information.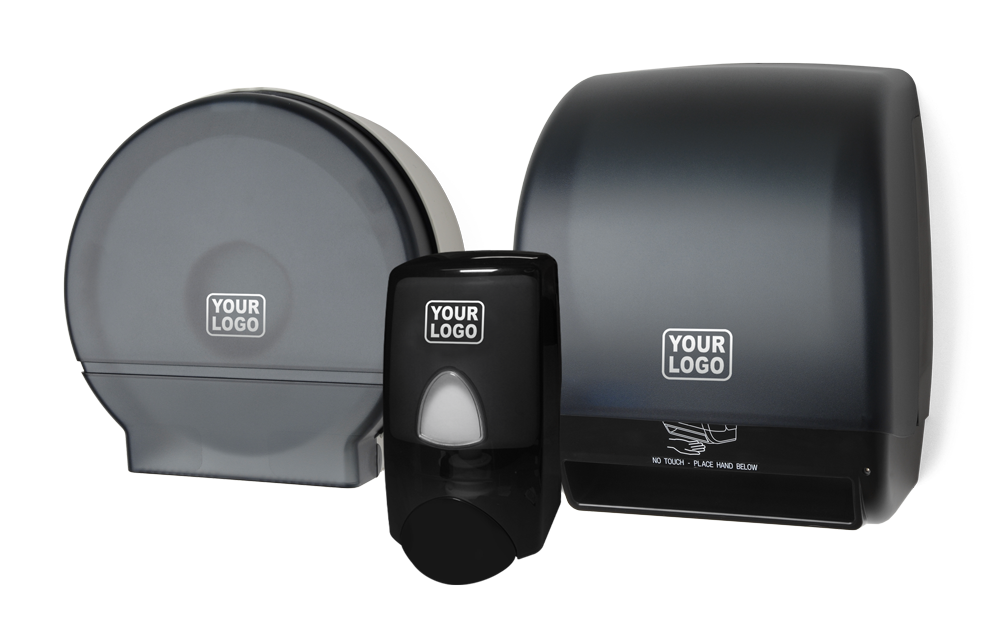 Pad Printing Q & A
What is Pad Printing?
Pad Printing is an ink stamping process that allows Palmer Fixture to put your one color logo onto our dispensers.
How big will my logo be?
The maximum logo area is 2.5″ wide x 1.5″ high. We will size your logo to fill that area as much as possible without distortion.
Where does my logo go?
The standard placement is on the bottom center of the dispenser cover. In some unique cases, the logo may be printed above a display window. Digital mock-ups of your logo's placement are available upon request.
What color will my logo be?
The standard color is Silver.
Other colors may be available in stock or by special order. Some colors may be subject to an additional charge.
Is there a minimum order?
Yes. The minimum order is 24 units per SKU with stock colors, or 36 units per SKU with special order colors.
How long will Pad Printing Take?
3 business days for in stock items. Add two weeks to your lead time if it is a pallet or more.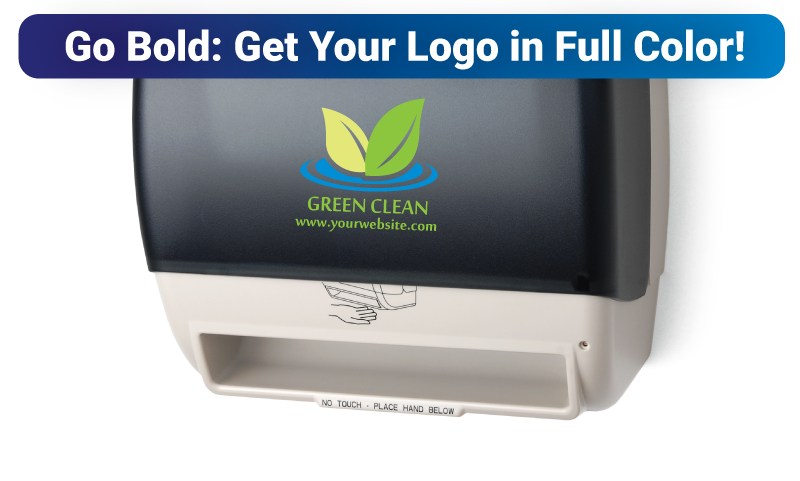 Multi-Color Logo Printing is Now Available!
Larger 3″ x 3″ Logo Area.
NO LIMIT on colors!
Intended for larger quantity or repeat orders.
Contact Us or call us at 800.558.8678 for a customized quote!